Preacher's Companion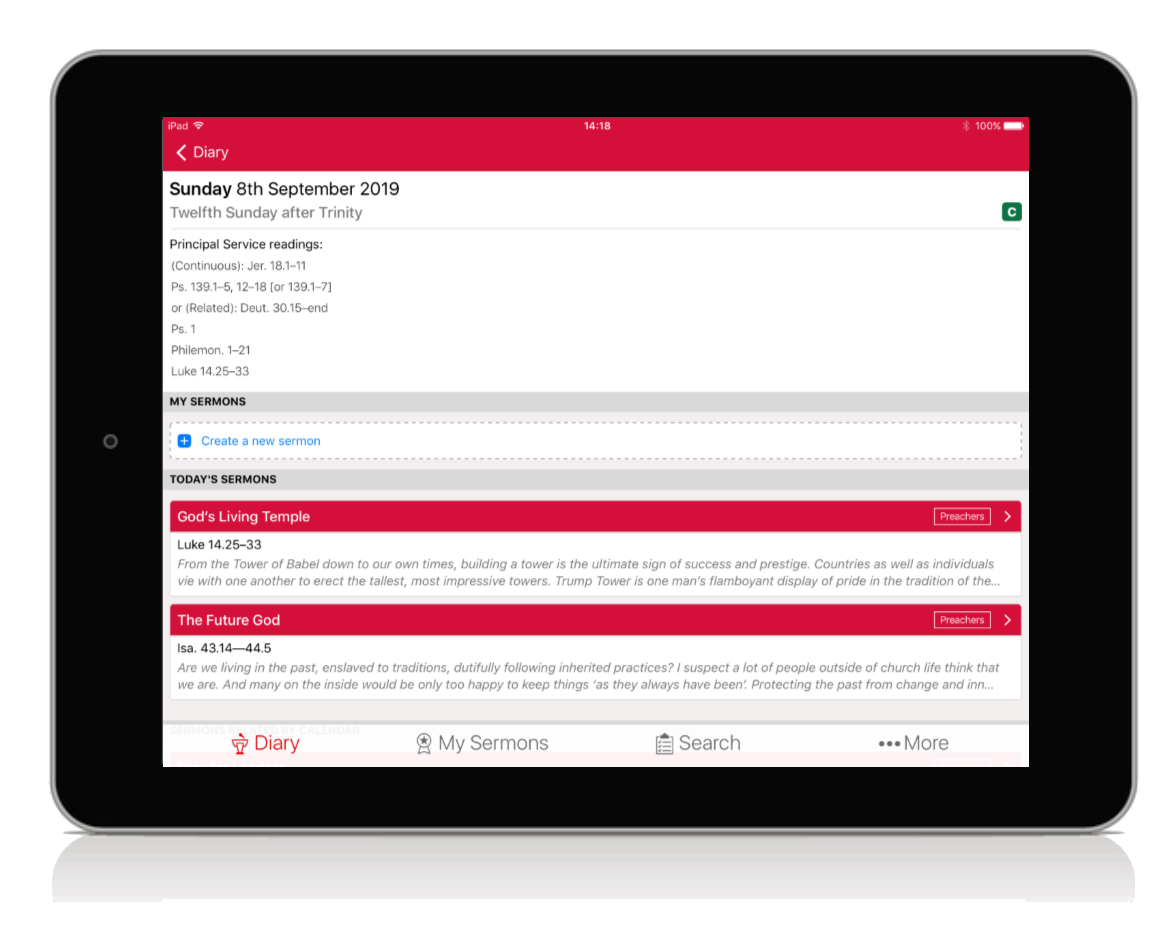 Introducing the new sermon-planning tool from the team behind the Canterbury Preacher's Companion.
Find Lectionary readings at your fingertips 
Browse the Canterbury Preacher's Companion sermon collection 
Write your own sermons on the go 
Switch to read mode on Sunday to deliver your address without distractions 
Includes over 1500 sermons from writers including Ally Barrett, Kate Bruce, Stephen Cottrell and Christopher Herbert.
Try the app free for 30 days
Try the web app for free at www.preacherscompanion.co.uk.
You will need a Hymns Ancient & Modern account to sign in. You may already have an account (for example, if you have ordered books from this website, or if you use the Church Times, Crockford Online or another HymnsA&M website). If not, you can set up an account here.
The web app is compatible with computers, tablets and smartphones with an internet connection.


Buy or renew a subscription 
The web app is compatible with smartphones, tablets and computers with internet access.


Download the mobile app
The mobile app is compatible with iPhone and iPad (iOS 11.0 or later) and Android devices (5.0 and up).
Sign in to the app and share your subscription
If you purchase a subscription from this website you will need to sign in to the app to activate your subscription.
Signing in using your hymnsam.co.uk account also allows you to share a subscription across multiple devices.
1. Open the app menu and tap on "Account"
2. Choose to sign in to hymnsam.co.uk
3. Enter your Hymns Ancient & Modern account details - this will be your email address and the same password you use to log in to this website (reset your password here)
If you don't yet have a Hymns Ancient & Modern account, set one up here.
Your subscription can be used on up to five devices - simply log in to each one using your Hymns Ancient & Modern account details.


App help and support
Please check our App FAQ first for solutions to common issues.
If you have have installed the app (on any device) the best way to let us know about a problem is to submit a support request from within the app. In the app menu go to "Credits and help" and tap on the help and support link.